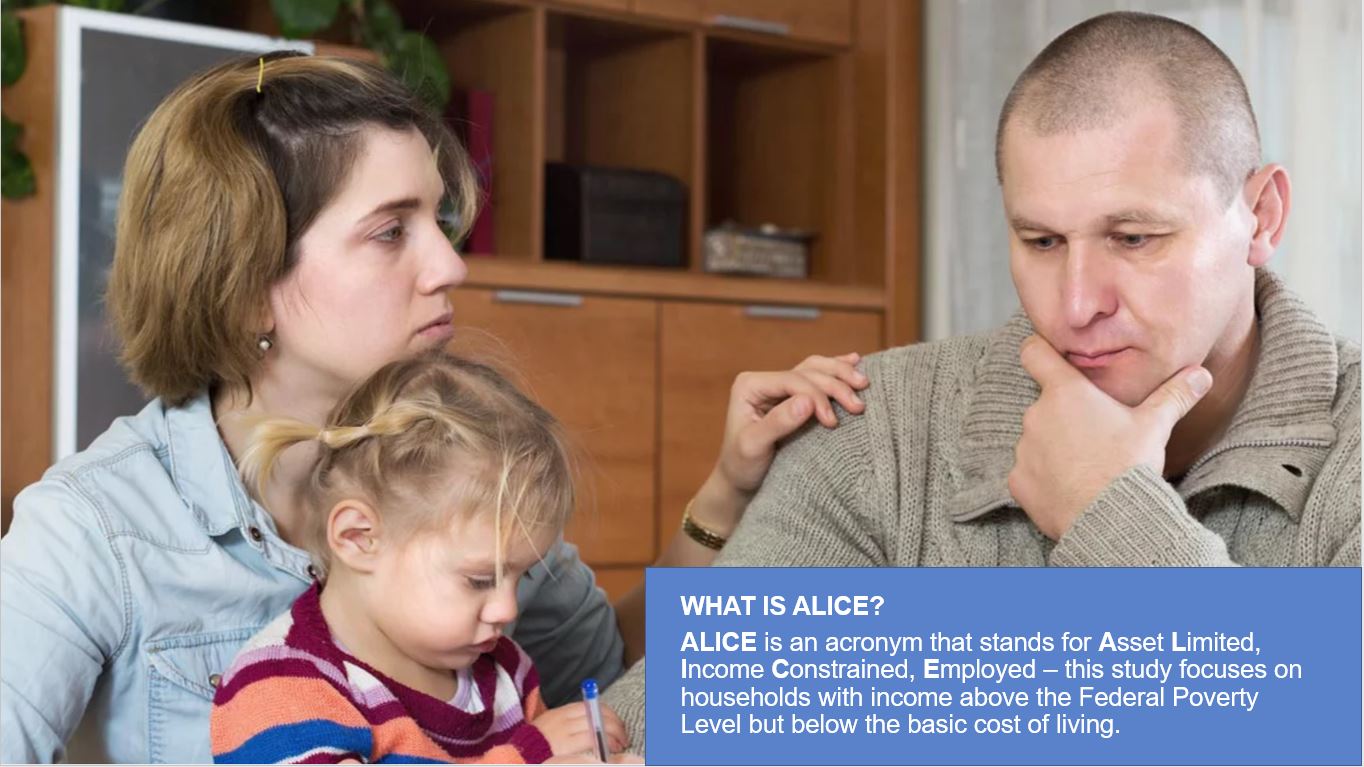 DO YOU KNOW ALICE?
Of course you do. ALICE is everywhere. From Opelousas to Eunice, Arnaudville to Washington, Ville Platte to Mamou, the entire St. Landry and Evangeline Parishes - ALICE lives in the wonderful mosaic of communities that make up Acadiana. ALICE represents community members working in jobs that are needed, but don't always pay enough to afford the basics, such as our child care teachers, home health aides, mechanics, store clerks, office assistants and more.  ALICE is men and women of all ages and races. ALICE is your customers, constituents, neighbors - even family members and friends. ALICE is the 'working poor'.
St. Landry-Evangeline United Way, in conjunction with the Louisiana Association of United Ways, and through a generous grant from ENTERGY, has just published the updated version of the ALICE Report.  The original ALICE Report Update for Louisiana was released in January 2016, with an additional update released in 2017.  The new report advances that information by two years, updating data sources from 2014 to 2018.  The United Way ALICE Report for Louisiana reveals that over half of Louisiana households struggle to make ends meet.    
The United Way ALICE Report employs a Household Survival Budget (HSB), incorporating household costs such as housing, food, child care, transportation, healthcare, technology and taxes establishing a threshold for ALICE to survive. The average HSB for ALICE households in St. Landry Parish estimates $21,876 is needed for individuals and $65,508 for a 2 parent/1 preschooler/1 infant family to afford the bare minimum.  In Evangeline Parish those estimates are $22,224 and $65,568 respectively.  While this exceeds the Federal Poverty Level (FPL) of $11,490 for a single adult and $23,550 for a family of four, ALICE can barely live paycheck to paycheck.
Our goals are to give ALICE a voice, leverage the hard work of United Way and other nonprofits, and make it clear more needs to be done to help ALICE and those living in poverty so we can build a better, stronger Louisiana. We believe the United Way ALICE Report for Louisiana can equip communities with information to create innovative solutions.
WHO IS ALICE?
With the cost of living higher than what most wages pay, ALICE families work hard and earn above the Federal Poverty Level, but not enough to afford a basic household budget of housing, child care, food, transportation, technology, and health care. ALICE households live in every parish in Louisiana – urban, suburban, and rural. They include women and men, young and old, of all races and ethnicities.
In Louisiana, 1,735,620 households – fully 51 percent – struggled to afford basic household necessities in 2018.  
Louisiana's percentage of ALICE households puts it at the third highest percentage of all 50 states.
While the Federal Poverty Level reports that only 19% (327,037 Households) of Louisiana households face financial hardship, an additional 33% qualify as ALICE. 
WHY ARE THERE SO MANY ALICE HOUSEHOLDS IN LOUISIANA?
The cost of living is increasing for ALICE households.  From 2007 to 2018, the cost of household essentials increased faster than the cost of other goods and services. The increase averaged at 3.4% annually nationwide over the past decade, while the official rate of inflation was 1.8%.
Worker vulnerability is increasing while wages stagnate in ALICE jobs. Despite a near-record-low number of people reported to be unemployed in 2018, the low unemployment concealed three trends:  the growth in low-wage jobs, the minimal increased in wages, and more fluctuations in job hours, schedules and benefits.  These trends wee clear in 2018 with a record number of Louisiana workers - 55% were paid by the hour, and 64% of the state's jobs paid less than $20/ hour.
The number of ALICE households is increasing, not decreasing in Louisiana.  Rising costs and stagnant wages move more ALICE households further from stability.  In Louisiana, the percentage of households that were ALICE rose from 23% in 2007 to 33% in 2018, while those in the federal poverty level remained about 18%.
Households Below the ALICE Threshold, Largest Cities and Towns in Louisiana
Consequences of Households Living below the ALICE Threshold in Louisiana
Occupations by Employment and Wage
Households by Race/Ethnicity and Income